Coaches Education Program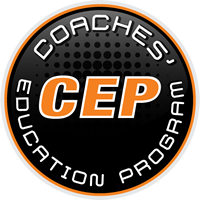 Helping every Coach develop the knowledge and confidence to teach their athletes to improve sports skill and performance.
Already a CEP member?
THE TOP PROBLEMS FOR MOST YOUTH LEAGUES
Recruiting and retaining volunteer coaches.
Politics and bias.
Ensuring team formation is as fair as possible.
Providing resources to maximize development of athletes and coaches.
CEP IS THE SOLUTION!
BASKETBALL EVALUATION SYSTEM
CEP provides a team of professionals including local HS coaches to evaluate both athletic ability (speed, vertical jump) as well as basketball skills such as dribbling, shooting, 3 on 3, 5 on 5.
CEP's evaluation system provides youth leagues with unbiased, objective evaluations…in one of our youth leagues over 50% of the coaches no longer attend evaluations because they have found the CEP evaluations to be extremely accurate.
The CEP system is extremely efficient with the ability to evaluate over 100 athletes per hour! CEP provides the league with their evaluations in a spread sheet and/or can load them into our newly create online draft software.
YOUTH DRAFT 1
Youth leagues can now draft their teams online just like fantasy sports! Our exclusive YOUTH DRAFT 1 software puts the CEP evaluations into an easy to use format that can be accessed from anywhere…thus, guaranteeing 100% coach participation.
COACHES AND PLAYERS CLINICS
CEP provides professionally run coaches and players clinics. The coaches clinics focus on introducing coaches to practice planning and key drills. The players clinics are customized to the age group and benefit both the player and the coach.
CEP APP
The CEP APP is the ultimate resource for youth league coaches. It includes:
Videos showing dozens of drills for coaches to pick and choose from.
Practice plans that are age specific and time specific depending on the length of the practice.
Practice plans evolve as the season progress…they are different each week.
Blank practice plans are provided so coaches can write down exactly what they want to do in addition to the plans sent out from CEP.